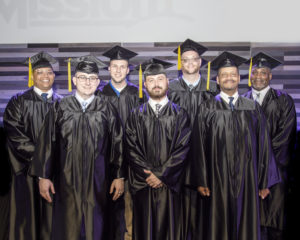 ADDRESS
718 N. Trade St. NW
Winston-Salem, NC 27101
PHONE
336.723.1848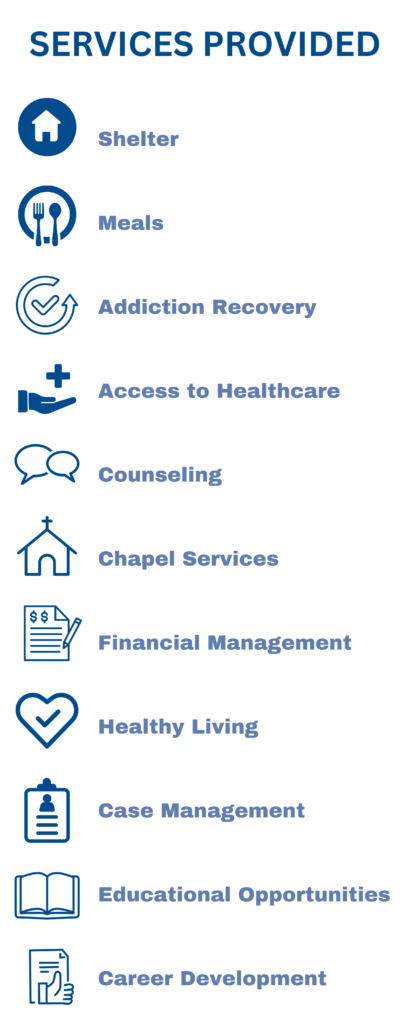 12-Month Transformers Program
The Transformer's Program is a one-year recovery program where residents are guided through a process of total life transformation involving physical, social, mental, emotional and spiritual growth and development. This program is housed in the Rescue Mission's NEW LIFE CENTER in downtown Winston-Salem.
"Do not be conformed to this world, but be transformed  by the renewing of your mind, that you may prove what is that good and acceptable and perfect will of God." (Romans 12:2)
This program is specially designed to assist residents in changing their thought patterns, which in turn, changes behaviors and overall approaches to life.
The program includes courses in various areas to prepare the individual for society again and help them proceed in life, successful in their pursuit:
Computer Skills
Adult Education
Financial Management
Healthy Living
Leadership Skills
Career Development
Residents will go through a process called "Giant Killers," learning to identify the "Giants" in their lives, and then systematically walk through ways of addressing these issues.
The Transformers Program implements a Christ-centered lifestyle. Residents often testify to the miraculous power of the love of God and the significant change in their lives through the Rescue Mission.
In addition to these programs, the Winston-Salem Rescue Mission's partnership with Forsyth Technical Community College and Winston-Salem State University affords residents the opportunities to learn necessary life skills and further their education.
Through daily devotions, chapel services, group counseling, and one-on-one counseling, residents continue to be presented with Biblical truths and are disciplined in living as new creatures in Christ.
Upon completing the Transformers Program, residents are assisted with gaining permanent employment and housing as they work to transition back into society.
QUESTIONS? E-mail our team at programs@nullwsrescue.org.
NEXT STEPS:
Download Application
What to Bring
Personal Hygiene Products
Towels & Rags
Shampoo, Toothbrush & Paste
Razors & Shaving Crème (No products with alcohol in them)
Linens: Twin bed sheets if you have them
Pillow, Blanket
Class Materials: Bible, 3 Ring Binder and Paper, Pens
Clothing: Dress clothes, shoes, dress socks
Work Clothes and boots
Gym clothes for recreation
Nonperishable snacks
Drinks (No energy drinks or weight lifting supplements)
Any amount over $20 will need to be locked in the safe
Family can send Postal money orders if the resident has a valid (not expired) driver's license.
Over-the-counter medications will be made available twice each day
What NOT to Bring
Drugs, drug paraphernalia or alcohol of any kind including mouthwash, cologne, hair products, or isopropyl alcohol
No energy drinks or weight lifting supplements
Money in any amount over $20 will need to be locked in the safe
Family can send Postal money orders if the resident has a valid (not expired) driver's license.
No prescription medication unless approved by Manager of the Program.
All over the counter medications will be made available twice each day.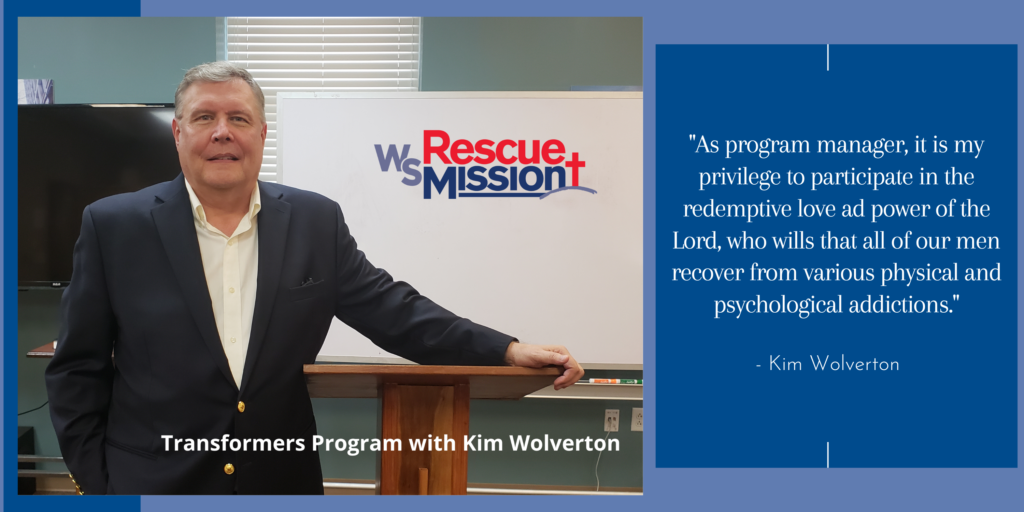 Testimonials from Transformers Participants
In the Transformers Program I learned how to put structure into my life, something I was desperately lacking before. They also taught classes such as budgeting, how to deal with grief, preparation for getting back into the job market, planning for the future instead of living in the here and now, and how to handle conflicts correctly. At first I had a difficult time dealing with what felt like constant chapel meetings but soon grew to look forward to those daily sessions so that I could learn more about the Lord. I could not get enough of the Word. It was not too long, two weeks actually until I had given my life back over to Christ.
- Jimmie
For the past 15 years my life has been on a downward spiral, and for the first time in as long as I can remember, I feel renewed and very hopeful for my future. I have been blessed in so many ways from this program. I have been able to get involved with a local church and truly feel like God is leading me. I do believe that without the Rescue Mission and Transformer program I would be dead today! God has saved me, and I do know that he has a plan for me and the rest of my life.
- Rob
My Uncle told my Dad about the Winston Salem Rescue Mission. He told him it would be the best place away from everybody that I was acquainted with and everything I knew. I arrived at the Winston Salem Rescue Mission on June 27, 2016. Since then, I have gained a better and growing relationship with God. I have completed my GED and established a better relationship with my family. I am currently enrolled at Forsyth Technical Community College. I am thankful every day for the WS Rescue mission.
- Cory
I had my first taste of alcohol at the age of 14, and I liked the feeling it gave me. I began drinking and soon became addicted. My mother was what we call a functioning alcoholic, which meant she drank a lot, but always went to work. I hated the fact that she drank a lot and swore. I would never be like her, but I became just like her only worse. She did not know she was an alcoholic, and nether did I. By the time I turned twenty-one, I had started smoking weed and that led to crack cocaine which brought me to my knees. As a result of over twenty years of addiction, I found myself unemployed and homeless. Since coming to the Mission, God has begun to transform my life. Through chapel services and personal devotional time, I now have a vision for the future. I have been clean for eighteen months and am now enrolled at Forsyth Tech pursuing my GED. Thank God for keeping the doors of the mission open so that those of us that desire to recover can begin our journey which gives us a new life.
- Michael
Like so many other men and women in the military, I became addicted to drugs and alcohol while serving our country. Since my military service ended, I have tried several different programs to conquer my addiction, but without success. I guess it's the fighting spirit instilled in boot-camp, but I decided to try one more time, and in August of 2014 I entered the WSRM Life Builder's Program. During my time at the Mission, I came face to face with four "giants" in my life: anger, pride, depression, and addiction. These giants were the root of my addictive behavior. I found out that God sent His Word and His Spirit to help break the chains of addiction and to defeat those "giants." By applying the principles of the Word of God in my life, I was able to conquer the giants that had once conquered me. In the fall of 2015, I graduated from the Transformer's Program. I am thankful to God for looking after me and for helping me along the way.
- Ben